We handle all aspects of an integrated process extending from the development of applications to the supply of new materials and plastic products.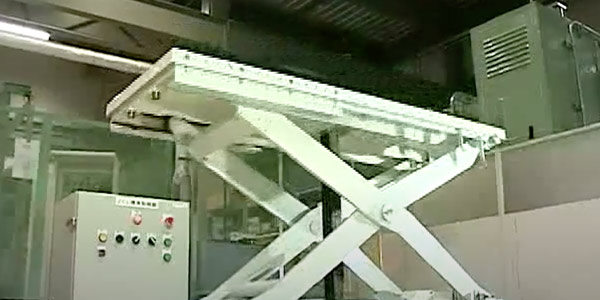 Tsubaki Zip Chain Lifter is the table type lifter that transmits lifting thrust directly through Zip Chains.
It operates 3 to 10 times faster than hydraulic lifters and supports high-frequency operation, which provides a maximum of 50% energy savings.
Features
Zip Chain Lifter works through Tsubaki's original Zip Chain mechanism and features high-speed, high-frequency and long service life. It achieves superior operation than hydraulic lifters.
High Speed
Achieves high-speed operation at a maximum lifting speed of 100m/min. This lifterworks through a mechanism that directly pushes up the lift table at a stable speed inproportion to motor rpm, enabling lifting operation at a constant speed. Synchronized operation of multiple lifters is also possible.
High Frequency Operation
Unlike with hydraulic lifters, the Zip Chain Lifter does not need to increase the tank capacity of hydraulic units for higher-frequency operation. Support high-speed operation such as continuous lifting at a rate of one lift cycle per minute
Stopping Accuracy
Simple control structure-Easily realizes multi-point stopping/multi-level positioning
Expected life
The Zip Chain Lifter has a mechanism that directly pushes the lift table, which places a smaller load on the hinges/rollers and enables longer life (over one million strokes).